Rosenthal Cosmetic & Plastic Surgery
9868 S State Road 7 Suite 330
Boynton Beach, FL 33472
Phone: (561) 880-8866
Monday–Thursday: 8:30 a.m.–5 p.m.
Friday: 8:30 a.m.–2:30 p.m.

Mommy Makeover
If you're uncomfortable wearing a swimsuit to the beach or even getting undressed in front of your partner because of physical changes after having children, a mommy makeover can help. At our Boynton Beach, FL, practice, our board-certified plastic surgeons perform this combination surgery to produce transformative results that restore your body and your confidence. They create a customized surgical plan for a mommy makeover that addresses your specific concerns.
Featured Mommy Makeover Before & After Photos
WARNING:
This feature contains nudity. Please click OK to confirm you are at least 18 years of age and are not offended by such material.
What Is a Mommy Makeover?
The combination of procedures included in a mommy makeover typically focuses on the tummy and the breasts. Lax abdominal skin, a tummy bulge, sagging breasts, and pockets of stubborn fat are all physical changes that no amount of exercising or dieting can improve. During your consultation, Dr. Andrew Rosenthal or Dr. Michael Plastini will describe your options after listening to you talk about your concerns and aesthetic goals.
Usually, a mommy makeover includes a breast enhancement procedure, a tummy tuck, and often liposuction. Options include:
Tummy tuck—Also called abdominoplasty, tummy tuck surgery creates a firmer, flatter stomach by removing excess skin and tightening and repairing abdominal muscles stretched during pregnancy (a condition called diastasis recti).
Liposuction—Removing excess fat helps ensure that your midsection appears smooth and contoured.
Breast augmentation—If you're self-conscious about having small breasts, augmentation with breast implants restores a fuller appearance.
Breast lift—A breast lift removes excess skin and lifts and reshapes sagging breasts so they appear more youthful.
Breast lift with implants—It's quite common that moms who want breast augmentation also need a breast lift because the breast skin has lost its elasticity.
Breast reduction— Lifting and reducing large, heavy breasts can make women feel more confident and make exercising more comfortable
Labiaplasty—This surgical procedure can address concerns you may have about the appearance of your labia after having children.
Our board-certified plastic surgeons have exceptional skill, experience, and expertise, in addition to a down-to-earth demeanor and genuine desire to help you feel more confident. They specialize in facial rejuvenation, breast enhancement, and body contouring procedures for women and men of all ages.
Andrew H. Rosenthal, MD
Michael Plastini, MD
Credentials You Can Trust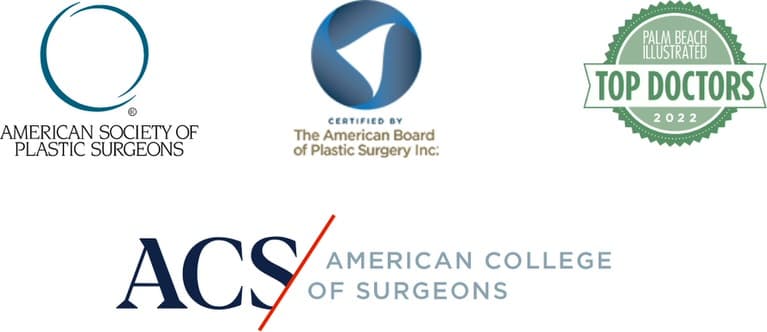 How Much Does a Mommy Makeover Cost in Boynton Beach?
The cost of a mommy makeover depends on the specific procedures included and the extent of the surgery needed to accomplish your goals. For example, combining a breast lift, breast augmentation, tummy tuck, and liposuction will cost more than a mommy makeover that only involves breast augmentation and a tummy tuck. However, one benefit of choosing a Mommy Makeover is that certain fixed costs are only charged a single time (such as the operating room and anesthesia fees). We provide a detailed price quote at the end of your consultation. We work with various companies that specialize in financing cosmetic surgery, including CareCredit®, PatientFi®, and Yes Doctor.
What Happens During Mommy Makeover Recovery?
One of the other benefits of combining multiple procedures into a single operation is having to only plan for a single recovery. This is especially helpful if you have children at home and have to arrange childcare or carpool schedules during your recovery.
Most of the discomfort and time needed to recover is associated with the tummy tuck after a mommy makeover. Prescription medication helps manage your pain during the initial few days of recovery. Even though you'll need plenty of rest, it's important to get up and move around periodically throughout each day to promote good circulation and minimize the risk of blood clots. We provided detailed postoperative instructions that you'll be asked to follow closely.
Let's Talk
Women considering a mommy makeover in West Palm Beach, Delray Beach, Wellington, and throughout South Florida travel to Rosenthal Cosmetic & Plastic Surgery in Boynton Beach to have one of our board-certified plastic surgeons perform the procedure. You can schedule a consultation with Dr. Rosenthal or Dr. Plastini using the online form or call our office at (561) 880-8866 to book an appointment.