Rosenthal Cosmetic & Plastic Surgery
9868 S State Road 7 Suite 330
Boynton Beach, FL 33472
Phone: (561) 880-8866
Monday–Thursday: 8:30 a.m.–5 p.m.
Friday: 8:30 a.m.–2:30 p.m.

Liposuction
A healthy lifestyle isn't always enough to get rid of stubborn areas of fat. That's one of the reasons liposuction at our Boynton Beach, FL, practice is among the most popular procedures for people of all genders. Liposuction can pick up where diet and exercise fall short, giving you smooth, proportional body contours.
Featured Liposuction Before & After Photos
WARNING:
This feature contains nudity. Please click OK to confirm you are at least 18 years of age and are not offended by such material.
How Is Liposuction Performed?
Our board-certified plastic surgeons use power-assisted liposuction (PAL), a gentler approach that requires less downtime than traditional liposuction techniques. Traditional liposuction involves the surgeon vigorously breaking up fatty tissue by manually thrusting a thin metal tube, called a cannula, back and forth as it suctions fat from the body. This results in significant trauma to soft tissue, causing bruising and swelling. During power-assisted liposuction, the cannula's rapid vibrations loosen fat and minimize the side effects that occur during manual liposuction.
Using the PAL technique, our surgeons can remove more fat in less time, which is especially important when treating larger areas. They can also target treatment areas with more precision than traditional liposuction. And, unlike liposuction techniques that rely on heat energy to melt fat, there is no risk of burns occurring during the procedure.
We also offer a nonsurgical liposuction alternative called Physiq that both reduces fat and builds muscle if you have minimal excess fat.
What Areas Can Liposuction Treat?
Many people have certain trouble spots where fat tends to accumulate, such as the hips, the upper thighs, and below the chin. Liposuction is a versatile treatment that can remove fat from virtually anywhere on the body.
The most popular areas for liposuction include:
Buttocks: Despite the trend of buttock augmentation with Brazilian butt lift surgery, patients often want excess fat removed from the buttocks or just below the buttocks ("banana rolls").
"Love handles": Bulges on the waist and flanks are especially frustrating for men and women in otherwise good physical shape. Liposuction slims this area for a more fit appearance.
Upper arms: If your skin has good elasticity, removing fat from the upper arms can create a more toned appearance.
Abdomen: The upper and lower abdomen are treated as separate areas, with the "muffin top" a popular liposuction target.
Hips: This area is a common concern among women who want shapely hips as part of a balanced, feminine figure.
Back: Upper back "bra fat" is another area women often want to be treated. Removing fat from the lower back is popular with both men and women.
Thighs: We can remove the excess fat on the outer thighs responsible for "saddlebags" and slim the inner thighs.
Face: We perform neck liposuction for a double chin and cheek liposuction to enhance facial contours.
Chest: Liposuction can sculpt a more masculine chest for men who are self-conscious about having enlarged breasts, a condition called gynecomastia. In some cases, our surgeons combine liposuction with gynecomastia surgery to remove breast tissue.
What Is High-Definition Liposuction?
Some men and women are good candidates for a technique called high-definition liposuction, which goes beyond simply removing excess fat. High-def liposuction—sometimes called liposculpture—is an option if you're physically fit and want a sculpted abdominal area. Surgeons create the ideal "six-pack" by selectively removing fat in a way that highlights muscle. It's important that your abdominal skin is tight and will "shrink to fit" the new contours.
Our board-certified plastic surgeons have exceptional skill, experience, and expertise, in addition to a down-to-earth demeanor and genuine desire to help you feel more confident. They specialize in facial rejuvenation, breast enhancement, and body contouring procedures for women and men of all ages.
Andrew H. Rosenthal, MD
Michael Plastini, MD
Credentials You Can Trust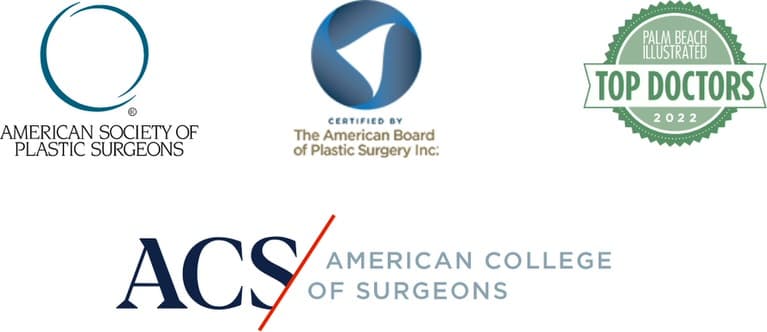 How Much Does Liposuction Cost in Boynton Beach?
The cost of liposuction at our practice depends on several factors, including the treatment area or areas and the extent of the procedure needed to produce the desired results. Neck liposuction, for example, ranges from $3,955 to $4,955.* In other areas of the body, the cost of liposuction is $5,655 to $6,655* per hour. In general, liposuction procedures take about 2 to 3 hours. We work with various companies that specialize in financing cosmetic surgery, including CareCredit®, PatientFi®, and Yes Doctor.
What Happens During Liposuction Recovery?
The recovery process varies by person, treatment area, and other factors. Even though recovery after power-assisted liposuction is shorter than with other types of liposuction, you should still plan to take a few days off from work if you have a non-strenuous job. More physically demanding jobs will require more time off.
It's important to closely follow our surgeons' recovery instructions regarding limits on activities, how to care for your incisions, and what medications to avoid. Wearing a compression garment for a few weeks helps minimize swelling and enhances your results. As the swelling and bruising dissipate, you'll start to see the results of your procedure.
Let's Talk
People considering liposuction in West Palm Beach, Delray Beach, Wellington, and throughout South Florida travel to Rosenthal Cosmetic & Plastic Surgery in Boynton Beach to get attractive, natural-looking results. You can schedule a consultation with Dr. Rosenthal or Dr. Plastini using the online form or call our office at (561) 880-8866 to book an appointment.
*Because we customize each procedure based on the individual patient's needs, these are estimated prices. Average fees for the OR and anesthesia as well as breast implants are INCLUDED where applicable. Compression garments, pre-op workups, and lab work may be separate costs.