Rosenthal Cosmetic & Plastic Surgery
9868 S State Road 7 Suite 330
Boynton Beach, FL 33472
Phone: (561) 880-8866
Monday–Thursday: 8:30 a.m.–5 p.m.
Friday: 8:30 a.m.–2:30 p.m.

Breast Reduction
Breasts that are large in size can cause pain and discomfort, and can also cause feelings of self-consciousness. With a breast reduction at Rosenthal Cosmetic & Plastic Surgery, you can reduce the size of your breasts to improve your appearance and quality of life. We welcome residents from Boynton Beach, Delray Beach, and Wellington, FL.
Featured Breast Reduction Before & After Photos
WARNING:
This feature contains nudity. Please click OK to confirm you are at least 18 years of age and are not offended by such material.
What Is Breast Reduction?
Breast reduction is a cosmetic procedure designed to reduce the size of the breasts. Large breasts are often a source of pain in the back, neck and shoulders, as the weight can put substantial stress on the body. In some cases, the size of the breasts can make it difficult to wear certain clothes or participate in activities like exercise. In addition to these concerns, you may consider a breast reduction for cosmetic reasons, with a goal of improving the proportions of your body. Although the breast reduction procedure is primarily focused on reducing the size of the breasts, the shape of the breasts can also be enhanced during the procedure, which is an additional benefit that you may enjoy.
Board-certified plastic surgeon Dr. Andrew Rosenthal is known for his exceptional skill, experience, and expertise, as well as his down-to-earth demeanor and genuine desire to help you feel more confident. He specializes in facial rejuvenation, breast enhancement, and body contouring procedures for women and men of all ages.
Andrew H. Rosenthal, MD
Credentials You Can Trust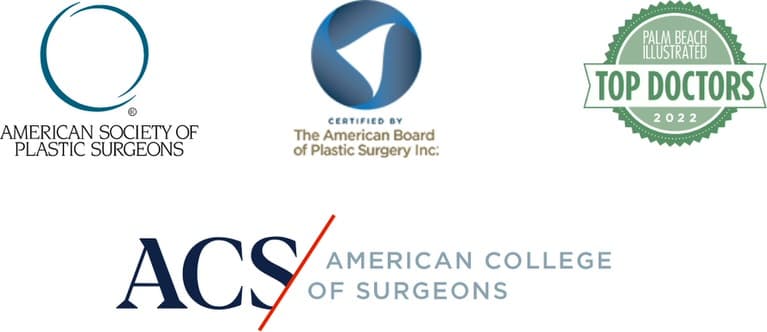 How Much Does Breast Reduction Cost in Boynton Beach?
The cost of a breast reduction will vary based on your unique needs and treatment goals. During your consultation, we take many things into consideration to design a personalized treatment plan that will optimize your results and treatment experience. Once this treatment plan is determined, we will be able to provide you with a clear breakdown of the costs associated with your breast reduction procedure. At our practice, the cost of a full breast reduction ranges from $10,041 to $11,441.* A limited scar breast reduction ranges from $9,989 to $11,439.* In some cases, your health insurance provider may offer full or partial coverage of your breast reduction procedure, and we will review your eligibility during your consultation. We work with various companies that specialize in financing cosmetic surgery, including CareCredit®, PatientFi®, and Yes Doctor.
What Can I Expect During the Breast Reduction Procedure?
Before a breast lift, we will use anesthesia to ensure that you remain safe and comfortable throughout your treatment. Then, incisions will be made that surround the areola of the nipple and extend downward. This technique is very similar to the lollipop technique used for a breast lift procedure. Through these incisions, we may use liposuction and other excisional techniques to remove excess fat and tissue from the breasts. Once the desired shape and size are achieved, we can also correct the location of the nipple if necessary. Afterwards, the incisions are sealed and the treatment is complete.
What Kind of Results Can I Expect From Breast Reduction?
After a breast reduction, you will have smaller, shapelier breasts and should notice an immediate reduction in the pain and discomfort that was previously caused by the weight and size of your breasts. Although the results from breast reduction are long-lasting, they cannot prevent changes from developing in the future due to changes in weight, pregnancy, and the natural aging process. We encourage you to maintain a healthy diet and exercise habits to make your results last as long as possible.
What Happens During Breast Reduction Recovery?
Due to the invasive nature of breast reduction surgery, you will likely have to take time away from work and other activities to recover. Dr. Rosenthal will inform you how to care for yourself during the recovery process, which may include important instructions regarding hygiene, diet, and daily activities.
Let's Talk
If you experience pain or discomfort due to the size of your breasts or are simply unhappy with your appearance due to your size, contact us today to schedule a consultation for a breast reduction. Rosenthal Cosmetic & Plastic Surgery is proud to offer breast reductions and other breast surgeries to residents of Boynton Beach, Delray Beach, Wellington, and the surrounding areas of Florida.
*Because we customize each procedure based on the individual patient's needs, these are estimated prices. Average fees for the OR and anesthesia as well as breast implants are INCLUDED where applicable. Compression garments, pre-op workups, and lab work may be separate costs.