Rosenthal Cosmetic & Plastic Surgery
9868 S State Road 7 Suite 330
Boynton Beach, FL 33472
Phone: (561) 880-8866
Monday–Thursday: 8:30 a.m.–5 p.m.
Friday: 8:30 a.m.–2:30 p.m.

Breast Augmentation
Breast augmentation can help women enhance their breasts and improve their figure, while a variety of options ensure that you get exactly the results you are looking for. At Rosenthal Cosmetic & Plastic Surgery, we offer breast augmentation treatments to residents living in Boynton Beach, Delray Beach, Wellington, FL and surrounding areas.
Featured Breast Augmentation Before & After Photos
WARNING:
This feature contains nudity. Please click OK to confirm you are at least 18 years of age and are not offended by such material.
What Is Breast Augmentation?
Breast augmentation, sometimes referred to as breast enlargement, or simply, a boob job, is a cosmetic surgery that uses breast implants to enhance the shape and size of your breasts. Breast augmentation surgery is one of the most popular cosmetic procedures. With this popularity has come many advancements and options regarding breast implants. With modern breast augmentation techniques, you have many options that help you get the most out of you breast enhancement experience. Varying choices of implant size, shape, material, and location make breast augmentation a highly customizable treatment. Combined with the surgical expertise of Dr. Rosenthal and Dr. Plastini, these options ensure that you can achieve results that look and feel natural while enhancing your figure and self-confidence.
How Much Does Breast Augmentation Cost in Boynton Beach?
The cost of breast augmentation will vary based on your unique needs, treatment goals, and the type of implants your choose. During your consultation, we take many things into consideration to design a personalized treatment plan that will optimize your results and treatment experience. Once this treatment plan is determined, we will be able to provide you with a clear breakdown of the costs associated with your breast augmentation procedure. At our practice, the cost of breast augmentation ranges from $7,205 to $9,205.* If you combine breast augmentation with a breast lift, the cost ranges from $13,739 to $18,379.* We work with various companies that specialize in financing cosmetic surgery, including CareCredit®, PatientFi®, and Yes Doctor.
Our board-certified plastic surgeons have exceptional skill, experience, and expertise, in addition to a down-to-earth demeanor and genuine desire to help you feel more confident. They specialize in facial rejuvenation, breast enhancement, and body contouring procedures for women and men of all ages.
Andrew H. Rosenthal, MD
Michael Plastini, MD
Credentials You Can Trust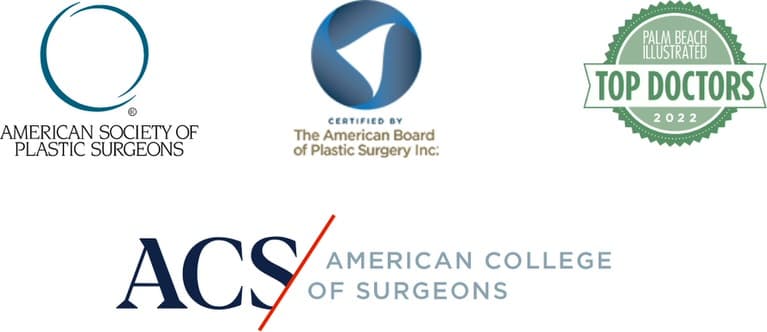 What Kinds of Breast Implants Are Available?
Once you decide to have breast augmentation, one of your first choices will be the type of implant you would like. Implants come in varying sizes and shapes, but the biggest decision to make is regarding the implant material. Breast implants are either saline or silicone, with each type of implant having its own pros and cons.
Although both implants are surrounded by an outer layer of silicone, saline implants are filled with a salt-water solution. One benefit of saline implants is that they are inserted into the breasts while empty, then filled with the saline solution once they are in place. This can help minimize scarring and make the surgery a little bit easier on the body. Silicone implants are composed entirely of silicone, which may offer a more natural look and feel.
With any type of breast implant, there is always a risk of rupturing. In the event of a ruptured saline implant, the leaked saline will be safely absorbed by the body, and you will notice a reduction in breast size. When a silicone implant ruptures, the silicone filling becomes trapped in the breast tissue. Although this poses no immediate health threat, it can be difficult to notice and may cause pain or other changes in the breast over time.
Where Will My Breast Implants Be Inserted?
The next option you have when planning your breast augmentation procedure involves the location of your implants in relation to the muscles in the chest. The location of your implants, as well as your personal preference, will determine the incision location for your surgery. These incisions may be any of the following:
Inframammary – With the inframammary approach, incisions are made along the natural crease underneath the breasts. This is one of the most common techniques, but may produce a more visible scar than other approaches.
Periareolar – The periareolar approach involves making an incision around the circumference of the areola, which is the pigmented skin surrounding the nipple. With this technique, any scarring tends to blend in with the nipple.
Transaxillary – The transaxillary approach is performed with incisions in the armpits. This technique eliminates any scarring from the breasts, but is typically only used for saline implants.
The location of the implants can be submuscular or subglandular. At Rosenthal Cosmetic & Plastic Surgery, we also offer subfascial breast augmentation, which is somewhat a mix of the two.
Submuscular – With submuscular breast augmentation, the implants are placed beneath the muscles in the chest. This often produces results that look more natural, but requires a more invasive surgery.
Subglandular – Subglandular implants are placed above the muscles in the chest. Although this can, at times, produce a less natural-looking appearance, it helps to reduce recovery time and gives patients more options regarding implant size.
Subfascial – The subfascial technique places the breasts above the muscle, but beneath the connective tissue that covers the muscle. As a result, patients can enjoy the natural-looking effects of submuscular placement, while also minimizing discomfort and reducing recovery time because the muscle is not directly affected.
What Can I Expect During the Breast Augmentation Procedure?
Before breast augmentation, we will use anesthesia to ensure that you remain safe and comfortable throughout the treatment. During the procedure, incisions will be made in one of several locations depending on the type of implant being inserted and your personal preference. With all breast augmentation procedures, we do everything possible to minimize visible scarring. After the appropriate incisions are made, the implants will be inserted. For this step, we use a device called a Keller Funnel, which makes the insertion of implants both easier and safer. With this device, implants are quickly slipped into place with less force on you and the implants themselves. After the implants are inserted and positioned where desired, the incisions are sealed and the procedure is complete.
What Kind of Results Can I Expect From Breast Augmentation?
After breast augmentation surgery, you will notice results immediately. However, there will be some initial swelling that may affect the appearance of the breasts. Swelling should dissipate within a few weeks to reveal the full results of treatment. Breast implants add long-lasting volume to the breasts, but may need to be replaced after several years to ensure continued safety and quality.
What Happens During Breast Augmentation Recovery?
Due to the invasive nature of breast augmentation surgery, you will likely have to take time away from work and other activities while recovering. The recovery period will vary depending on the type of implants, location of incisions, and placement of implants chosen for your breast augmentation procedure. Dr. Rosenthal and Dr. Plastini will inform you how to care for yourself during the healing process, which may include important instructions regarding hygiene, diet, and daily activities.
Let's Talk
To learn more about your breast augmentation options or to determine if breast implants are right for you, contact us today to schedule a consultation with Dr. Rosenthal or Dr. Plastini. Rosenthal Cosmetic & Plastic Surgery is proud to serve men and women from Boynton Beach, Delray Beach, Wellington, and the surrounding areas of Florida.
*Because we customize each procedure based on the individual patient's needs, these are estimated prices. Average fees for the OR and anesthesia as well as breast implants are INCLUDED where applicable. Compression garments, pre-op workups, and lab work may be separate costs.