Rosenthal Cosmetic & Plastic Surgery
9868 S State Road 7 Suite 330
Boynton Beach, FL 33472
Phone: (561) 880-8866
Monday–Thursday: 8:30 a.m.–5 p.m.
Friday: 8:30 a.m.–2:30 p.m.

Breast Reconstruction
A breast reconstruction can make a huge difference in helping a woman restore her sense of wholeness after cancer or injury. At Rosenthal Cosmetic & Plastic Surgery, we are proud to offer breast reconstruction procedures to the residents of Boynton Beach, Delray Beach and Wellington, FL.
Featured Breast Reconstruction Before & After Photos
WARNING:
This feature contains nudity. Please click OK to confirm you are at least 18 years of age and are not offended by such material.
What Is Breast Reconstruction?
A breast reconstruction is a procedure designed to restore the size, shape, and symmetry of your breasts after a mastectomy, lumpectomy, or related procedure. Losing part or all of a breast during cancer treatment can take a serious emotional toll on a woman, as the breasts directly affect her sense of femininity, wholeness, and self-confidence. A breast reconstruction uses a variety of techniques to restore the breasts to their original shape and size, while also making them feel as natural as possible.
Our board-certified plastic surgeons have exceptional skill, experience, and expertise, in addition to a down-to-earth demeanor and genuine desire to help you feel more confident. They specialize in facial rejuvenation, breast enhancement, and body contouring procedures for women and men of all ages.
Andrew H. Rosenthal, MD
Michael Plastini, MD
Credentials You Can Trust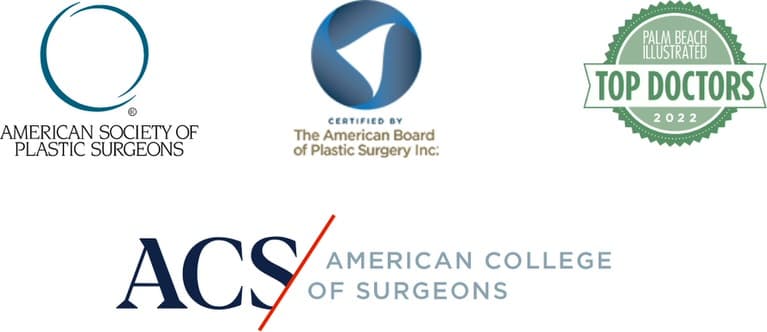 How Much Does Breast Reconstruction Cost?
The cost of breast reconstruction will vary based on your unique needs and treatment goals. During your consultation, we take many things into consideration to design a personalized treatment plan that will optimize your results and treatment experience. Once this treatment plan is determined, we will be able to provide you with a clear breakdown of the costs associated with your treatment. In some cases, your health insurance provider may offer full or partial coverage of your breast reconstruction procedure, and we will review your eligibility during your consultation. For your convenience, we accept cash, checks, credit cards, and financing through CareCredit®.
What Can I Expect During the Breast Reconstruction Procedure?
Before a breast lift, we will use anesthesia to ensure that you remain safe and comfortable throughout the treatment. There are a number of techniques available for breast reconstruction. The first is reconstruction with flaps, which is often performed if you do not have sufficient tissue remaining on the chest. During flap surgery, tissue is taken from another area of the body, such as the abdomen or thighs, to provide the breasts with natural tissue and blood flow. Another option is breast reconstruction with implants. Implants can be a great way to achieve optimal shape, size, and feel without extensive surgery. Implants are best suited if you have sufficient breast tissue remaining, but they can also be combined with the flap technique. In all cases, we do everything we can to minimize scarring and produce the most natural results possible.
What Kind of Results Can I Expect From Breast Reconstruction?
After breast reconstruction, you may feel more like yourself, enjoying a restored sense of wholeness and femininity. The results from a breast reconstruction are long-lasting, which can help you overcome the emotional difficulties that come with a mastectomy.
What Happens During Breast Reconstruction Recovery?
Due to the invasive nature of breast reconstruction surgery, you will likely have to take time away from work and other activities to recover. Dr. Rosenthal and Dr. Plastini will inform you on how to care for yourself during the healing process, which may include important instructions regarding hygiene, diet, and daily activities.
Let's Talk
To learn more about the breast reconstruction procedure, please contact us today. We will be happy to answer any questions you may have or help you schedule your initial consultation with Dr. Rosenthal or Dr. Plastini. At Rosenthal Cosmetic & Plastic Surgery, we welcome men and women from Boynton Beach, Delray Beach, Wellington, and the surrounding areas of Florida.